Learning, growing, discovering together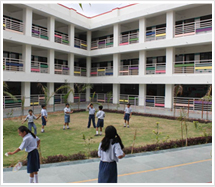 Infrastructure
Academic Infrastructure

Activity Infrastructure
Academic Infrastructure
The classroom at I.D.P. are interactive learning centers equipped with state- of -the -art tools. A technologically equipped classroom makes the sessions more interactive and interesting. The audio- visual approach is apt for better comprehension and retention.
Laboratories
Science lab : We encourage children to explore, examine, observe question, hypothesize and experiment through our Science lab with all necessary tools and equipment.
Computer lab : A first grasp over technology has become a necessity in today's world. Our computers are equipped with upgraded systems to allow students hands- on experience of the tools of future.
Activity Infrastructure
A child's physical development is as important as his/her mental & behavioral development unlike most schools, we make the students avail themselves of the sports facilities in small batches so that each student gets the opportunity and time to explore the sport. We are equipped with several games and props for toddlers to make sports an integral part of learning activity.
Library
The library forms the core of every student's academic progress. The library has a wide range of meticulously selected collection of books on all subjects, reference books, journals, magazines, periodicals, newspapers and CDs.
Activity rooms
We are passionate about education and providing your child with the tools to be successful in life. We focus on the needs of individual child by providing a stimulating atmosphere for learning beyond, the scope of the curriculum to create a platform where a child can give free reign to his/her imagination.
Art room
Sick room
Activity centre
Auditorium
Copyright © 2012 I.D.P Education campus. All rights reserved.
Powered By :
Adit Microsys